New Super Mini LED downlight for outdoor Veranda, Terrace, Roofing, Garden and indoor Bathroom, showcase, etc. lighting.

This is a 2W mini led spotlight with a very small size, the shell size is 36x36mm, and the size of the opening required for installation is 27x27mm. Very small, with an embedded buckle, it is very convenient to use.
Compared with the DR-SP3W-12V mini spotlight, the height of this spotlight is shorter, only 27mm.
The light efficiency is higher, and the brightness is higher.
Using flat wire, perforated installation is more convenient.

This mini spotlight can easily be connected to a dimmable or non-dimmable transformer. It is also possible to install several LED spots as a group and easily add a separate spotlight when needed.
The waterproof rating of this mini led downlight is IP65, so it is no problem to use it outdoors. Basic wind and rain can still be endured.
The miniature led spotlight is equipped with a power controller with a hub, and the controller is controlled by an RF remote control.
The control distance of the remote control can reach a radius of 50 meters, and it is an RF control method. Even if there are multiple obstacles from the controller, it will not affect the use of the controller.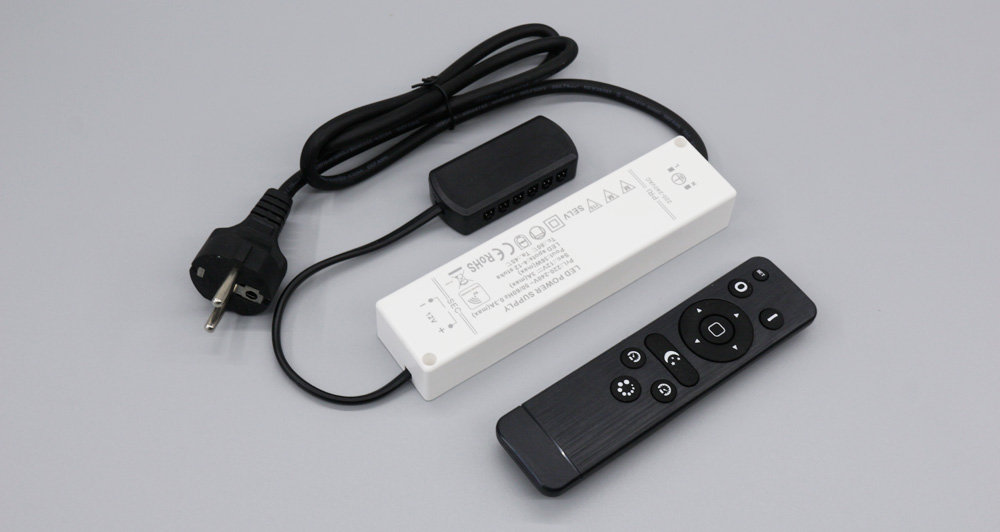 This is a mini dimmable led spotlight. With the help of an RF remote control, the color temperature and brightness of the spotlight can be adjusted to meet the needs of various scenes and atmospheres.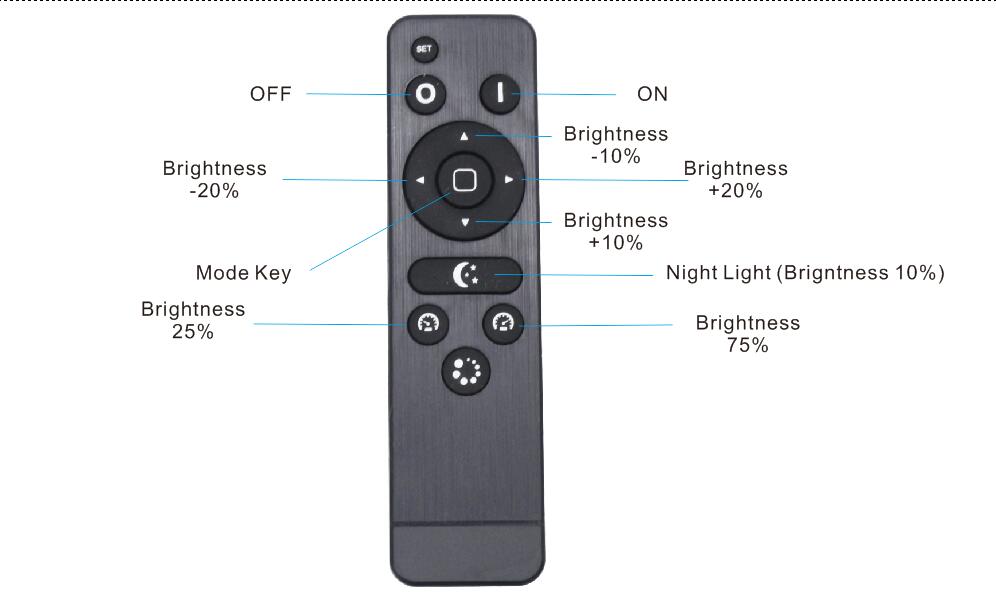 The hub on the power controller can be connected to multiple spotlights for synchronous control at the same time, which is very convenient to use.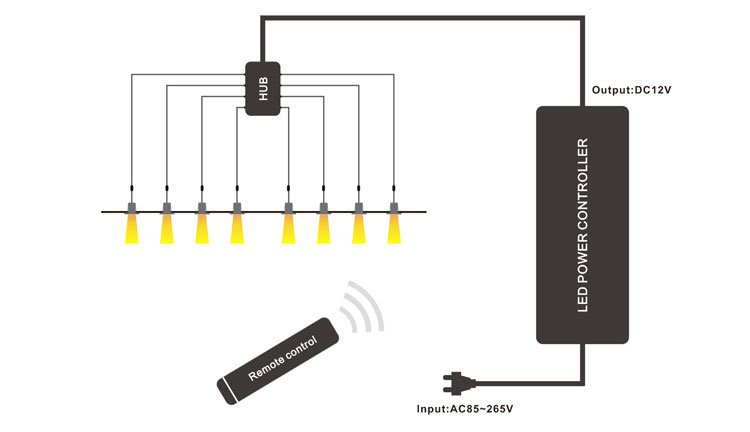 This is also a low-voltage led spotlight. The working voltage of each spotlight is DC12V. You don't need to be aware of the risk of electric shock caused by children touching or wiring failure.
Each small downlight is equipped with a 5-meter-long waterproof cord, which is easy to install and use.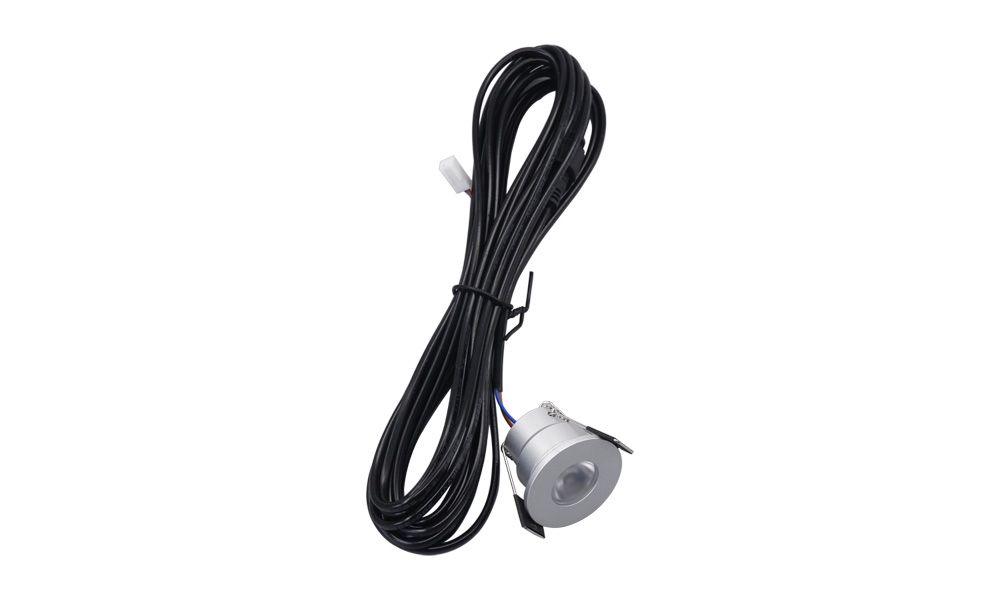 This spotlight comes in three colors: silver, black and white.
This spotlight can be packaged into different sets for purchase: 6/8/10/12 pieces as one set.
This recessed RF dimmable spotlight is suitable for various application scenarios, such as outdoor terrace, veranda, garden house, bathroom, showcase, cabinet lighting.
Packaging for 12pcs kits
Electrical Parameters
| | |
| --- | --- |
| Model | DR-SP2W-12V |
| Color | 2700K, 3000K, 4500K, 6000K (Customizable) |
| Input Voltage | DC12V |
| Power | 2W |
| Power factor | >0.95 |
| Ra | >80 |
| LED Beam Angle | 30° |
| Lumen Output | 250 |
| Work Temperature | -20~60° |
| Working Humidity | 40%-70%RH |
| Dimmable | Yes |
| IP Rating Spot | IP65 |
| Material | Aluminum |
| Suitable for | Indoor and outdoor |
| Outside diameter | Ø 36 mm |
| Diameter hole size | Ø 27 mm |
| Build-in depth | 27mm |
| IP Rating Spot | IP65 |
| Working Lifetime | 50,000+ hours |
| Energy label | A+ |
| Certification | CE, RoHS |
| Cord length | 5 meter each spot |
| Warranty | 3 years |
Power controller parameters
| | |
| --- | --- |
| Model | DR-CON36W-12V |
| Color | White with Black Hub |
| Input Voltage | AC85-265V |
| Power | 36W |
| Power factor | >0.90 |
| Size | 165*45*25cm |
| Tc | 80°C |
| Ta | 45°C |
| Remote control type | RF |
| Number of interfaces | 12 |
| Dimmable | Yes |
| IP Rating Spot | IP44 (Also available with IP67 waterproof rating) |
| Material | PVC |
| Remote control battery | AAA battery * 2 |
| Max control distance | 50meters |
| Certification | CE, RoHS |
| Warranty | 3 years |
Application: